Micro-Needling
Also known as collagen induction therapy, Micro needling is a skin rejuvenation procedure that stimulates the body to form new collagen and elastin. Improved skin texture and tone, reduced pore size, and improved scars and stretch marks can be achieved through Micro needling. A series of three treatments one month apart is generally required for optimal results
Benefits:
Evens skin tone
Softens stretch marks
Improves fine lines and wrinkles
Reduces the appearance of pores
Lightens hyperpigmentation and sun sports
Brings back the "glow" for fresher, younger looking skin
Firms and smooths skin texture
Micro-needling with PRP:
Made popular by Kim Kardashian, the Vampire Facial is cutting edge! Micro needling is combined with PRP, your body's own platelets, to enhance the results of the Micro needling procedure. Platelet Rich Plasma contain your own growth factors which are released to accelerate you body in the healing process. This promotes new collagen and elastin. This is the ideal anti-aging treatment for clients who want to minimize the appearance of wrinkles, fine lines and acne scars.
Belle Vie Classic Facial
Regular treatments are your best defense against aging and blemishes caused by the build-up of dead skin and debris in your pores. We offer complete customized medical grade facials that are designed to meet your individual skin care needs. Whether you are concerned about fine lines, wrinkles, sun damage, pigmentation, acne, scarring or other conditions, we will design a treatment that rejuvenates and revitalizes your skin while preventing future damage.
Each treatment includes the following:
Thorough Skin Analysis and Consultation
Customized Cleansing Massage
Extractions
Enzyme Exfoliation
Customized Therapeutic Mask
Home Care Product Consultation
Gentlemen Executive Facial
The Gentlemen Executive™ combines therapeutic relaxation with corrective skin care treatments tailored especially for men. Our male clientele can unwind while promoting and maintaining skin that is well balanced and free of imperfections. A combination of facial massage, hydrating facial masks, and exfoliation is performed to restore and nourish the skin.
Beautifully Clear Corrective Acne Facial
Treatment begins with a salicylic acid prep. A soothing enzyme mask is used to soften and exfoliate the skin. Then special attention and time is given to extractions of the pores over the entire face. A series of three to six treatments and a customized skin care program are required for maximum results.
Beautifully Clear Corrective Acne Peel
This treatment is designed to clear up troublesome breakouts and helps to remove congestion, blackheads, and improves overall appearance of your skin. Soothing enzymes soften and exfoliate the skin prior to extraction. A custom blended mask is applied to draw out impurities and reduce excess oil and shine, leaving the skin balanced and hydrated. A series of three treatments and customized skin care program is required for maximum results.
Glycolic Peel
A chemical exfoliant that promote the repair and regeneration of skin. Recommended to aid in the elimination of actinic keratosis, improves the appearance of aging skin and uneven texture and tone.
Lactic Peel
Smooth, hydrate, and brighten, improving the appearance of fine lines and pigmentation discolorations with little to no downtime.
TCA Peel
Trichloroacetic acid (TCA) peels are stronger than AHA peels, sometimes requiring pretreatment with an AHA peel. TCA peels are often used on patients with thicker skin or darker complexions. Generally, treatment only takes 20 to 30 minutes, and afterward, you may need a few days to recover. As with AHA peels, follow-up treatments may be required to reach a satisfactory appearance.
Obagi Blue Radiance Peel
Quick superficial salicylic acid-based facial chemical peel that exfoliates and helps improve overall complexion, and provides firmer, smoother, brighter-looking skin after just 1 use. A series of 4 to 6 peels provides best overall results.
Jessner's Peel
Our most corrective chemical peel consisting of resorcinal, lactic and salicylic acid. This treatment improves pigmentation, helps clear acne, decreases pore size and generates collagen production. Most effective when done in a series of three treatments 4-6 weeks apart. Social down time is 7-10 days.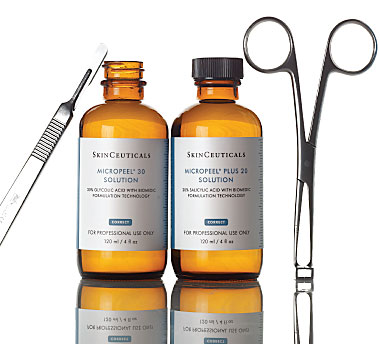 SkinCeuticals Micro-Peel
MicroPeels are a 3-step process to help to improve skin texture and radiance, firmer skin, diminish fine lines and wrinkles, lighten dark spots and even-out skin tone, reduce acne blemishes and help prevent future breakouts, and revitalize sensitive skin while decongesting pores.
First Step- Manual Exfoliation, Dermaplane
A manual exfoliation technique used to clear away dry, dead, superfluous skin layers. Dermaplaning immediately diminishes the appearance of dry fine lines that are evident on aging skin, increases the rate of absorption of skincare products, and provides a healthier more radiant appearance.
Second Step- Chemical Exfoliation
Whether you are looking for a light exfoliation, agressive exfoliation, or a treatment to control breakouts and improve texture, there is a Chemical exfoliation specifically for you!
Express Dermaplaning
It's okay to remove your facial peach fuzz. But let us take care of it with Dermaplaning.
Dermaplaning is a safe way to rejuvenate the skin. The treatment is intended to exfoliate the epidermis and remove facial peach fuzz. The treatment involves the use of a 10-inch scalpel, which curves into a sharp point. The blade is used on clean, dry skin on the forehead, cheeks, chin, nose and neck. This exfoliation treatment allows for skincare products to penetrate deeper layers of the epidermis.
"Dermaplaning leaves your skin brighter, smoother, glowing, and more youthful," says Stacked Skincare founder Kerry Benjamin. "The only people who can't dermaplane are those with active pustular acne."